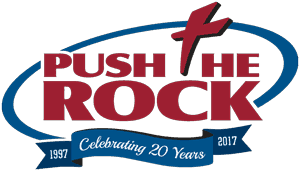 Push the Rock is an international sports ministry that partners with churches and organizations around the world to use sports to impact the world for Jesus Christ. The organization teaches sportsmanship and character, in addition to the sports fundamentals in a variety of programs.
WANT TO PLAY AT A HIGHER LEVEL? 
Our training weeks will include skill development, character development and group competition with professional results. Basketball camps will be led by Push the Rock. Check back for additional sports opportunities.
"Be strong in the Lord and in His mighty power!"  Ephesians 6:10
Jen Baker, Day Camp Director
Basketball Camp
Session 1: Boys Basketball Camp (Ages 8 – 15) $250
July 9 – 13 from 9 AM – 4 PM
9:00 am – 9:30 am Camper Registration and Shoot Around
9:30 am – 9:40 am Welcome Campers and Introduce Camp Staff
9:40 am – 9:55 am Sportsmanship Thought
9:55 am – 10:15 am Warm-Ups (end with "3 on 2, 2 on 1")
10:15 am – 11:15 am 5 Stations (10 minutes each)
– Shooting
– Ball Handling
– Defense
– Passing
– Post Moves
– Rebounding
11:15 am – 11:50 am Player Scrimmage and Evaluation
– Divide players by age
– Coaches should referee or evaluate
11:50 am – 12:30 pm Dismiss for Lunch (player evaluation & assignment to teams by Director and coaches)
12:30 pm – 12:55 pm Technique Time
– Free Throws (focus on form and routine)
– Conclude with "Cameron Crazies"
12:55 pm – 1:55 pm Team Time and Free Throws or Team Practice (5 on 5 game situation)
– One division shoots free throws & one goes to chapel (switch after 30 minutes)
– The team should line up around the key with each player shooting 2 shots during his/her turn and then rotating
– Each player should shoot 10 free throws per day
– If your team finishes early, end with a game of "Knockout" and keep track of the winners
1:55 pm – 3:30 pm League Competition
– # of teams will determine length of games
3:30 pm Prepare for Dismissal
Session 2: Girls Basketball Clinic (Ages 8 – 15) $50
Tuesday, July 10 from 6:30 – 8:30 PM
Thursday, July 12 from 6:30 – 8:30 PM
Baseball Camp
Meet our Coach…
Jon Yeakel is from Kutztown, PA.  He has coached at every level including T ball, Little League, Junior Legion, High School, Division II College, and ACBL~Summer collegiate baseball.  He was  the Assistant Coach at Kutztown University and is currently the Push the Rock baseball camp director.
Since 2005 he has served as the GM of the Kutztown Rockies of the Atlantic Collegiate Baseball League.  During his tenure the team won championships in 2006, 2007 and 2008 and holds the all-time league win record spanning almost 50 years.  He has recruited players from all over the United States including schools as big as LSU and as small as Lehigh County Community College.
Jon brings a love for the game, a love for working with kids and a wealth of experience and knowledge to our baseball camp.
Baseball Camp Details
July 23-27 from 9-4pm
Ages 7-12
Cost: $250
Lunch included daily
Week includes player appearances from the AAA New York Yankees affiliate the Railriders.
Optional Railriders baseball game on July 25. Ticket, food voucher and transportation $20.